My Father Will Kill Me, My Mother Will Die – Book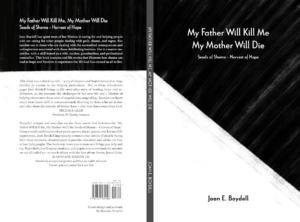 MY FATHER WILL KILL ME, MY MOTHER WILL DIE:  Seeds of Shame — Harvest of Hope is like a manual in narrative form for counselors and others in caring capacities.  The author tackles the tough challenges of our current culture in a way that promotes honest dialogue and with deep insight and practical advice.  She speaks truth grounded on a biblical foundation, authority based on decades of professional and life experience, and compassion that draws on her own personal encounter with God's love and mercy.
---
ENDORSEMENTS:
Joan Boydell ingeniously connects true stories of people facing life's most traumatic circumstances to provide education and advice on how to best help people.
JEANNEANE MAXON , JD – Speaker, Human Rights Advocate, Former Care Net General Counsel
---
This book has a shocking title – a cry of despair and hopelessness that rings familiar to anyone in the helping professions. But in these remarkable pages Joan Boydell brings to life story-after-story of healing, hope and redemption, as she recounts the challenges in her own life and a lifetime of helping others turn those cries of anguish into songs of joy.  Readers can learn much from Joan's skill in compassionately listening to those who are in fear and offer them the remedy of Perfect Love – that love that comes from God.
MICHAL GEER – President, PA Family Institute
---
It has been said that stories are one of the most powerful ways to influence and inspire people. In My Father Will Kill Me, My Mother Will Die, Joan Boydell masterfully shares her life through compelling stories about the people she has touched along the way and how they have touched her. Her storytelling cadence is rhythmic and refreshing and inspires readers to consider as divine the encounters God puts in their paths. Those whose daily lives are immersed in the complexities of others' lives will especially enjoy Joan's perspective and be encouraged to embrace vulnerability, honesty, and humility as they serve God by serving others.
CYNTHIA C. HOPKINS, MA – Organizational Leadership, Care Net Vice President of Center Services & Client Care
---
TABLE OF CONTENTS:
Guilt and Grace
Please, Just Listen
Help for the Whole Person
New Beginnings
The Impact of Abortion
Help From Others
Rescue Attempts
Unanticipated Blessings
Cultural Crisis
---
FOREWARD:
I am so pleased that Joan has finally written this book that has been in her for years. It is a counselor's manual in narrative form. Joan is a seasoned veteran in the field, and I have witnessed her personal integrity, love for the Lord, love for people, and passion for healing. She covers hard-to-talk-about issues surrounding abortion, like physical and sexual trauma, self-mutilation, bulimia, borderline personality disorder, and sex trafficking. She describes the requisite attitudes and skills in helping people to navigate through these issues and even addresses self-care. She tackles the tough challenges of our current culture in a way that promotes honest dialogue. She speaks truth with a biblical foundation and authority. As a helping professional myself, these stories are encouraging me to be faithful to plant the seed from the One who gives the seed, even if I don't see the results. Her honesty and transparency are qualities shaped by the pain and struggles she experienced in earlier years that God is using to make her a powerful human paraclete and intercessor.
Your reading of this book will not only strengthen and encourage you personally and professionally; it will also make you feel like you have had a personal encounter with a woman who speaks truth in love and is your friend.
Vincent Calloway – Master of Social Science, Licensed Clinical Social Worker, Certified Employee Assistance Professional, Currently in private practice, working with children, adolescents, adults
---
BOOK PURCHASE INFORMATION:
Cost:
$13.99 plus sales tax and shipping and handling
Payment by credit card, check , or money order
Email:
Phone: