Right Full Rudder – Book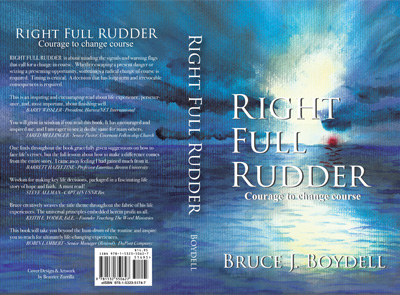 RIGHT FULL RUDDER uses personal events in the author's life story to highlight the critical importance of discerning signals and warning flags that require a change in course and direction.  It is a book about personal faith that transforms challenges and threats into opportunities and success.  It encourages readers to communicate their own stories in a way that ignites hope and imparts courage and commitment in the lives of others.
---
ENDORSEMENTS:
How to make a life-transforming difference comes from the entire story.  I enjoyed Right Full Rudder and came away feeling I had gained much from it.
BARRETT HAZELTINE – Professor Emeritus, Brown University
---
This will take you beyond the hum-drum of the routine and inspire you to reach for ultimately life-changing experiences.
ROBIN LAMBERT –  Retired Senior Manager E.I.DuPont Co
---
A fascinating life story of hope and faith. This book is a must read
STEVE ALLMAN – Captain U.S.Naval Reserve (Retired)
---
The details of life can be tedious, confusing, and sometimes quite painful but when the threads of God's love, grace, and provision are woven into the details, the story of life comes alive. Right Full Rudder is that story! Acknowledging God's sovereignty on every page, Bruce inspires readers to look for His almighty hand in their own lives and to trust Him with the details…no matter what!
CYNTHIA C. HOPKINS – Vice President, Care Net, Center Services & Client Care
---
SAMPLE CHAPTER TITLES:
Right Full Rudder
Three World-Changing Words
In Deo Speramus
Cold War Warriors
Get Up And Walk
Road Closed
The Road Home
Audacious Hope
Rebirth Of A Vision
All Hands !   Ready About !
---
FOREWORD:
These are the Words of a Warrior.  Maybe less well known than Robert the Bruce, this Bruce has, none the less, been prepared by life to recognize the needs of the moment and stepped up accordingly to the challenges and opportunities presented.  Here is a modern warrior who has chronicled for us that process by which one man stewarded the vast array of people, experiences, and the hand of God in shaping his readiness to enter and remain in the battle.
There are those wounded in battle that never return to the field.  Then there are those severely wounded who reenlist time and again.  For those of us who have known and loved Bruce and his extraordinary family for decades, we say here is one who has suffered the slings and arrows, but is undeterred by the fight.
This highly personal account tracing the myriad of threads in the underside of the tapestry, ultimately reveals what is above – the beautiful fabric of a life well lived.  This is a book to sit with, not consume in a sitting or two.  It's a place in which you can find your own story and marvel at the similar yet unique ways God prepares us each to take our place in the battle for the expansion of His Kingdom
C.Frank Fendler – President, Aero Development Corp
---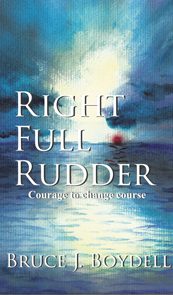 BOOK PURCHASE INFORMATION:
Cost:
$14.95 plus sales tax, plus shipping and handling
Payment by credit card, check, or money order.
Email:
Phone:
Additional Purchase Sources: